GenEon, the Visionary Chemical-Free Cleaning, Sanitizing and Disinfecting Solutions Company, Launches a New Website for Improved User Experience
GenEon continues innovating, but this time by launching a new user-friendly, faster, and more responsive website to offer its clients a far superior user experience.
June 21, 2018
San Antonio, TX - (PRWeb- 06/21/2018 10:00 AM CST) - GenEon, the company dedicated to providing innovative toxic-free cleaning, sanitizing, and disinfecting solutions, is excited to announce its new, optimized website. The company opted to improve their website in an effort to offer its clients a superior user experience, capable of responding to the latest devices and technologies available in the market today.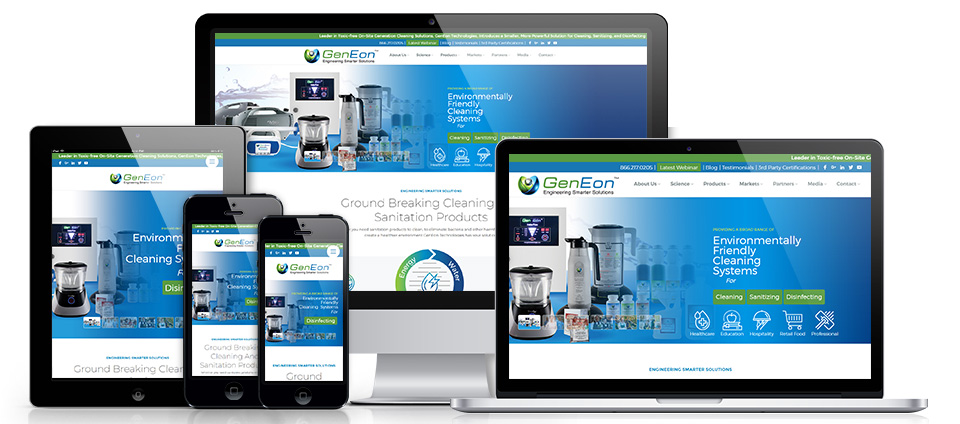 This new portal adds extra value to its content by improving the users' experience through a totally revamped design, a smoother navigation, quality images, and an overall better presentation. One of the most noteworthy improvements is that
GenEon's new website
is totally mobile-friendly. This means it is fully optimized to offer the best user experience regardless of whether you're browsing on a laptop, a desktop computer, or on a mobile device such as a tablet or smartphone. Overall, this design is faster and better than its predecessor.
Through these changes, the company seeks to better showcase their array of
sustainable and toxic-free products and solutions
, and to ultimately fulfill the goal of helping the world transition into a place where sustainable and toxic-free cleaning is the new norm for safe, superior, and cost-effective results.
"At GenEon, we are all about innovation, so when it came to our website, using cutting-edge technology was the way to go. We wouldn't have it any other way," said Syd Williams, Co-Founder of GenEon and VP of Client Services and Sales Operation. When asked about the role the newly redesigned website played in the company's strategies, John Shanahan, Co-Founder and Vice President of Sales and Marketing answered: "GenEon's new website is not only designed to give our clients the best user experience possible but built to help potential clients find our company due to better SEO technology".

GenEon is rapidly becoming the place to go for alternative cleaning, sanitizing, and disinfecting solutions for
the professional and consumer markets
. Thanks to its On-Site Generation (OSG) technology, consumers can create toxic-free cleaning solutions on the spot, as needed. Their unique cleaning and sanitizing devices also play a role in their success because they make cleaning quicker, safer, and more cost-efficient than other more traditional alternatives. For more information on these and other unique and innovative products and solutions call 866.217.0205.