The Power Of Portable
Now offering...
Trio H2Ome
Try & Buy Program: 30 Day Money Back Guarantee
A gift that really makes a difference
How it Works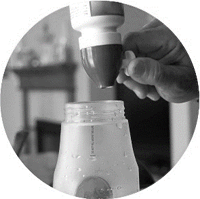 Put catalyst in cleaning bottle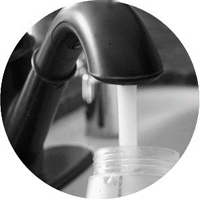 Add tap water
Engage!
Out With The Old, In With The New
It's time to drain the ol' blue stuff. You know what we're talking about...the old traditional cleaner we keep hidden from kids and makes our hands all wrinkly and prune like. Yeah that stuff. Imagine the effect on our environment!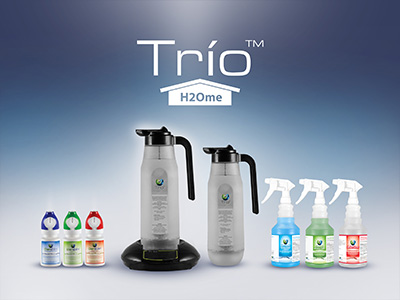 A bunch of smart people came together and figured out a new way to clean homes. A safe and healthy way. The way of the future. The Trio H2Ome gives you a nontoxic cleaner for all surfaces including:
Counter tops,
cutting boards,
bathroom surfaces
and even carpet cleaning.
Fresh, clean and bright will be the superior result each time - giving you a healthier tomorrow, today! Pretty smart, right?
Impressive Results
When used as directed the Trio H2Ome solution kills harmful bacteria like E. coli, Salmonella and Listeria. The University of Georgia recently did a study and found that the GenEon's Sanitizing solution was effective at killing E.coli and Salmonella on tomatoes and lettuce at a log5 level in 30 seconds. In case you're wondering...that's really fast.
The University of Mass, Lowell Toxic Use Reduction Institute (TURI), did a study which demonstrated that GenEon's solutions work just as well or better than the leading chemicals on the market. Without the harmful side effects of traditional chemical cleaners and sanitizers (the ol' blue stuff).
The Price is Right
NSF certified, the Trio H
2
Ome comes with an ample supply of GenEon supplements to clean your entire home for up to 2 years without ever ordering more!
Where to Use GenEon Solutions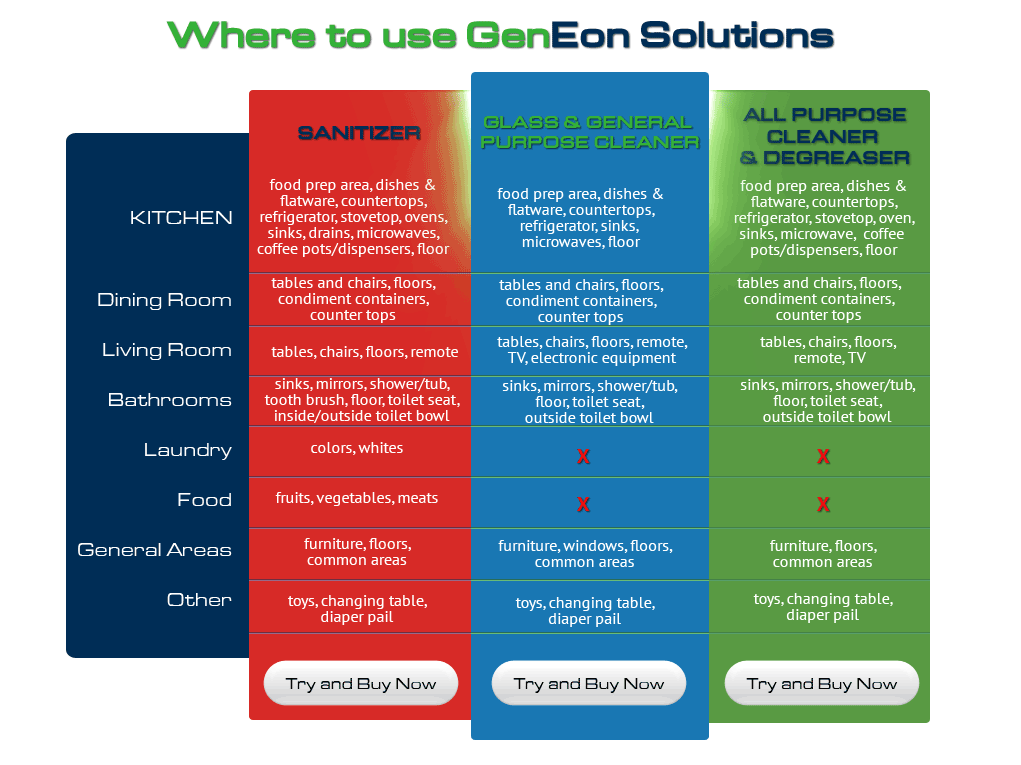 Where to Use GenEon Solutions
"A house cleaning that used to take me three hours was completed in two. And I got it cleaner than ever before! Plus, I didn't have to wear gloves. Thank you so much for such an amazing product. Easy to use and the sanitizer leaves the home with a light swimming pool smell. I can't believe I waited this long to finally order the product as I will probably never use something else again. Thanks Again!!!"
TL Michigan (Residential Cleaner)
Trio H2Ome
Try & Buy Program
30 Day Money Back Guarantee
Order Now!